Bacon-Wrapped Oreo's! Every now and then, you come across trends that, at first glance, make you think: nope, not going to do that. However, after much persuasion from various people in the BBQ world, I finally gave in and decided to give it a try. And okay, I admit it. I was pleasantly surprised.
Because, to be honest, Oreos aren't my go-to snack when it comes to snacking. And i know they are sold a lot and a lot of people like these in the Netherlands but it's not as big as in the USA i guess or other countries for that matter. And me personally, i'm not really a fan of the filling, so to speak. But hey, I still gave it a shot, and this unlikely combination of Oreos, bacon (which actually makes almost everything better), my BBQ rub (also something that makes almost everything better), and BBQ sauce is a really tasty mix.
The trend itself probably originates, like many of these trends, from the USA. It's kind of like those Dorito spareribs I posted on my social media channels a while back. I'm secretly curious about how these combinations come about. Maybe it involves a drunken night or someone who was hungry and thought it was a good idea to throw together everything tasty they could find. Either way, that person really stumbled upon something here. Because seriously, I found this to be delicious!
The great thing about this recipe, by the way, is that you can make it on the BBQ, in the Airfryer, or in the oven. It's a more or less foolproof recipe that always turns out tasty. So, it's definitely a good tip to try at home!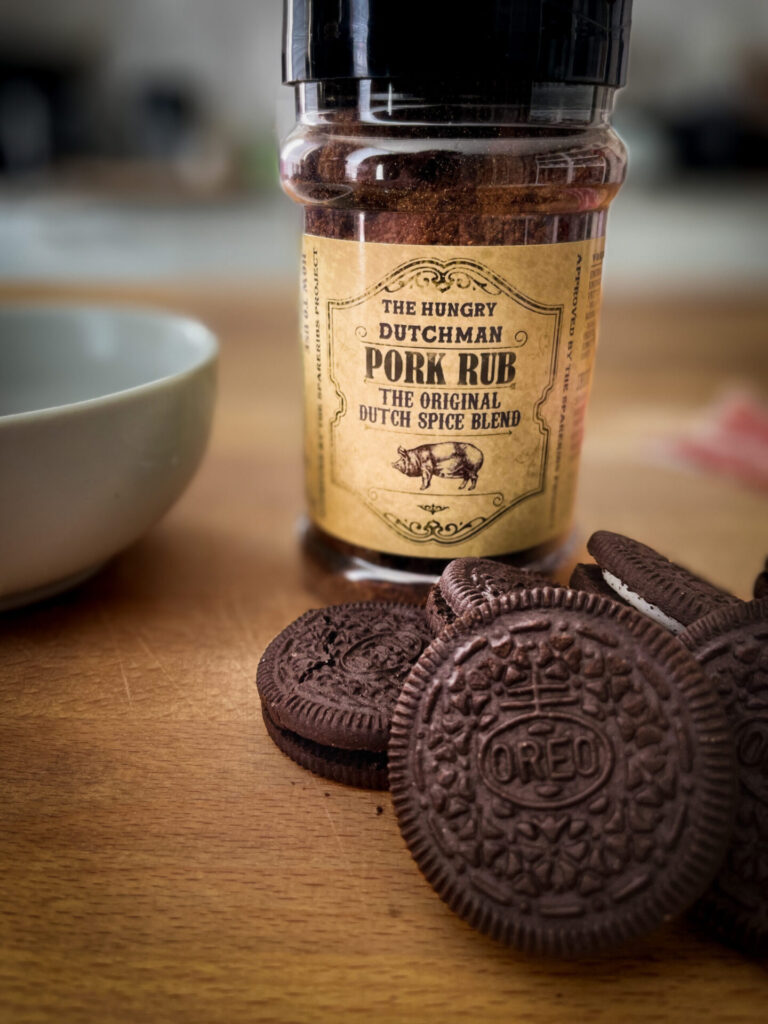 Print
Ingredients
1 normal pack of oreo's

Bacon (because almost everything tastes better with bacon)

the Hungry Dutchman pork rub

BBQ sauce
Print
Directions
Preheat the BBQ to an indirect heat of 150°C (300°F).
Wrap a strip of bacon around each Oreo. If the bacon strips are too large, you can cut them in half. With average supermarket-sized bacon strips, one whole strip can be used for each Oreo.
Sprinkle The Hungry Dutchman pork rub over the bacon on both sides.
Place the bacon-wrapped Oreos on the BBQ (tip: use an aluminum foil pan or something similar).
After 10 minutes, check the color of the bacon. If it's starting to turn brown, lightly brush the bacon with BBQ sauce (not too much). Let the Oreos cook for an additional 5 to 10 minutes.
After 5 to 10 minutes, the bacon-wrapped Oreos should be cooked. Remove them from the BBQ and let them cool for about 5 to 10 minutes.
Enjoy your delicious bacon-wrapped Oreos!