Chicken is an essential part of Dutch cuisine. Often used in stir-fries, pasta dishes, or as a straightforward piece of meat with potatoes. But did you know that chicken is also perfect for making a delicious stuffed roulade? Ideal for the BBQ and special occasions!
There are various combinations for the stuffing, but I particularly enjoy chicken filled with goat cheese, honey, and spinach. For that crispy touch, wrap the chicken in a lattice of woven bacon.
This recipe doesn't require too much prep time, and once it's in the oven, you can leave it be. Convenient, right?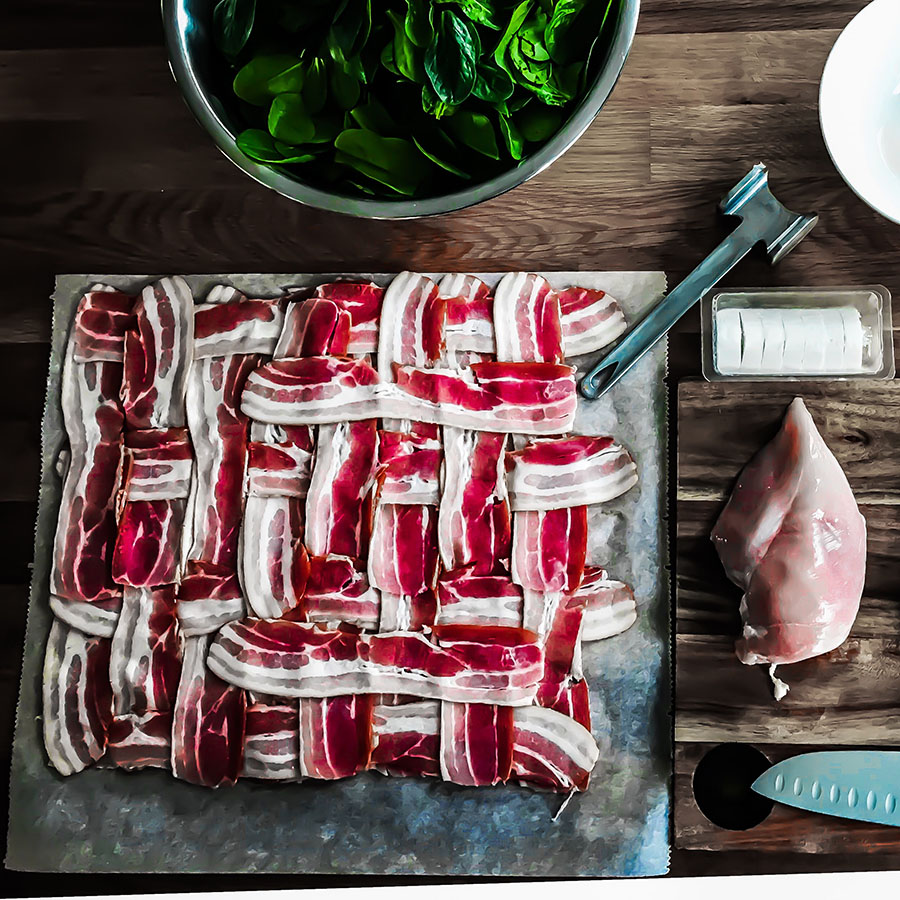 Print
Ingredients
300 grams Chicken breast

200 grams Bacon, thinly sliced

300 grams Spinach

125 grams Goat cheese

1 teaspoon Honey
Print
Directions
Light the BBQ for indirect cooking (meaning leaving one part of the BBQ free from charcoal and placing the roulade over the empty section). Ensure that the barbecue temperature is between 140 – 160 degrees Celsius.

As an additional tip, it's recommended to place an aluminum tray under your roulade in the section without charcoal. This prevents the bacon fat from dripping into the fire, averting temperature spikes
If you don't have a BBQ, no worries. This dish can be easily made in the oven as well. The crucial point is to set the oven temperature to 170-180 degrees Celsius.
Remove the stems from the spinach. Make the spinach shrink by putting it in a colander and pouring boiling water over it. Let it drain and set aside for a moment.
Most of the work lies in weaving the bacon, but once you get the hang of it, it's a simple task:

Place the chicken breast between two sheets of plastic wrap and flatten it with a meat hammer or a rolling pin. Spread the chicken breast over the bacon mat. Leave about one centimeter free at the top and sides so that you can easily fold the bacon later. Now, cover the chicken breast with the spinach and crumble the goat cheese on top. Drizzle with a teaspoon of honey. Roll the roulade tightly, ensuring that the sides are also covered with bacon. Place the chicken in an oven dish for 30-45 minutes in the oven at 180 degrees Celsius until the bacon has obtained a nice dark red color.
Serve this with tasty roseval potatoes and a simple salad and you have a lovely meal!