When you think of Cuba, you imagine cigars, American vintage cars in striking colors, upbeat summer music, and delicious food. Although I haven't been to Cuba myself, during summer where I live, you often notice influences from Cuban cuisine in the beachside restaurants. The food is often really tasty—simple but flavorful. Now, just to clarify for anyone reading, limoncello is definitely not Cuban. However, its taste can certainly be associated with the flavors of Cuba.
Cuban cuisine is characterized by the abundant use of garlic (lots of garlic!) and herbs like oregano, parsley, pepper (not too much because spiciness isn't commonly found in Cuban food). As mentioned, they also use a lot of lemons, limes, and oranges, hence my reference to limoncello.
Every now and then, I get the chance to taste something delicious from local businesses or people in my area, like a bottle of homemade limoncello from a BBQ team called LetzQ. And I must say, it was darn delicious! Making limoncello yourself isn't really that difficult, but having this bottle ready-made by that team saved me the effort. Again, I know, limoncello isn't Cuban. But in this case, it's more about the lemon/lime and alcohol used in this recipe, combined with the herbs, giving it a nice Cuban touch.
As for those herbs, as I mentioned, in Cuba, they mainly use simple combinations of herbs and spices like garlic, cumin, parsley, onion powder, oregano, pepper, and salt. Additionally, they use a lot of fruits, especially lemon/lime and oranges. The reason is that Cuba still faces scarcity when it comes to food, so people get resourceful with what's available. That's why I find it amazing that with such a simple combination, you can create incredibly tasty dishes.
Now, this isn't a very complicated recipe, and you can easily replace the limoncello with lemon juice and some sugar. But trust me, the taste with limoncello during these warm summer days just hits differently; you won't want anything else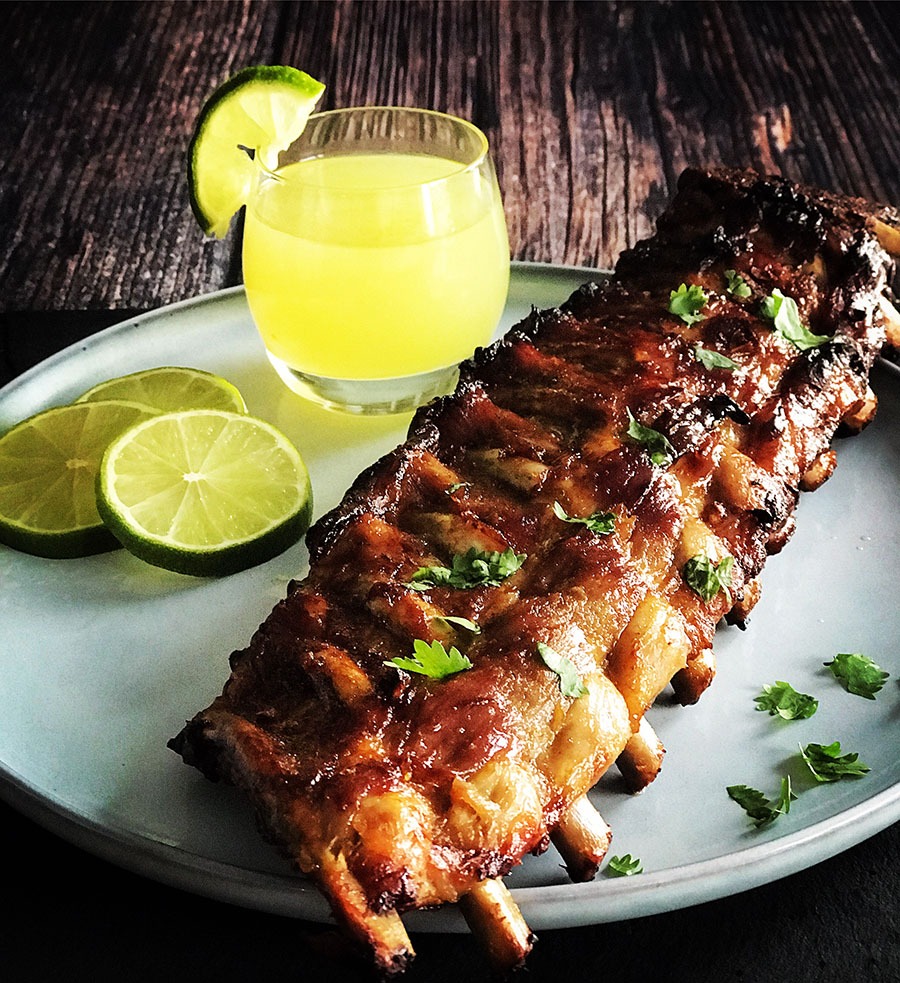 Print
Ingredients
2 racks of ribs

For the BBQ rub

2 tablespoons of garlicpowder

1 tablespoon onionpowder

1 tablespoon cuminpowder

1 tablespoon parsley

1 tablespoon oregano

For the glaze

2 cups limonchello

juice of 1 lemon

zest of 1 lemon
Print
Directions
remove the membrane a day in advance
Place the ribs in a large bowl and pour all the ingredients over them to marinate. Let them marinate for at least the entire night.
On the following day, prepare the barbecue for indirect grilling, ensuring that the temperature remains below 110 degrees Celsius.
Remove the ribs from the liquid over the coal-free area and set the liquid aside. Cover the barbecue and let the ribs slowly cook for 2 to 2.5 hours.
Transfer the marinade to a saucepan, bring it to a boil, and let it simmer until it thickens slightly. Avoid simmering for too long.
After about 2.5 hours, check if the bone is protruding from the ribs. If not, let them stay on the BBQ for a little while longer.
After about 2.5 hours, wrap the ribs in aluminum foil, adding a splash of Limoncello. Place them back on the grill indirectly for 1.5 hours.
After this stage, remove the ribs from the foil and place them back on the barbecue. Now, glaze the ribs with the sauce. Position the ribs slightly closer to the coals (not directly above) and generously brush the sauce over them. Adjust the distance from the fire if it's cooking too quickly.
After repeatedly brushing the ribs every 10 minutes, they're ready. They might not fall off the bone, but they'll have a delightful bite complemented by the lime flavor, giving them a wonderful summery taste. Enjoy, and let me know how they turn out!