"I've been delving into fermentation for a few months now, as some might know. Yesterday, I stumbled upon a show on a foodnetwork channel about food trucks, and they used candied jalapeños. And let me tell you, I'm crazy about spicy food and particularly a big fan of jalapeños.
Luckily, I live in the Westland region here in the Netherlands, and we have one of the biggest pepper farms in the EU called Westland Peppers here. It's a fantastic company that cultivates a wide variety of peppers in their greenhouses, including, of course, jalapeños that you can easily order from their website. Ten years ago, this would have been unthinkable, but now, it seems like you can order practically anything through online shops. So, peppers, as it turns out, too! A day later, I had these beautiful peppers delivered right to my doorstep (or rather, in a box neatly delivered by the postal service).
Candied jalapeños, also known as Cowboy Candy, are incredibly delicious. They taste fantastic on bread, as a flavor enhancer with cream cheese, and they really shine with BBQ meat dishes.
As I mentioned, I've been diving into fermenting for a while now. I've already made a really tasty hot sauce and a nice Tabasco in the process. Fermentation is actually a broad concept that includes preservation. In this case, candying, which essentially means preserving in sugar. Now, don't click away just because you saw the word 'sugar.' Your grandparents probably did this, and they've lived long lives, right?"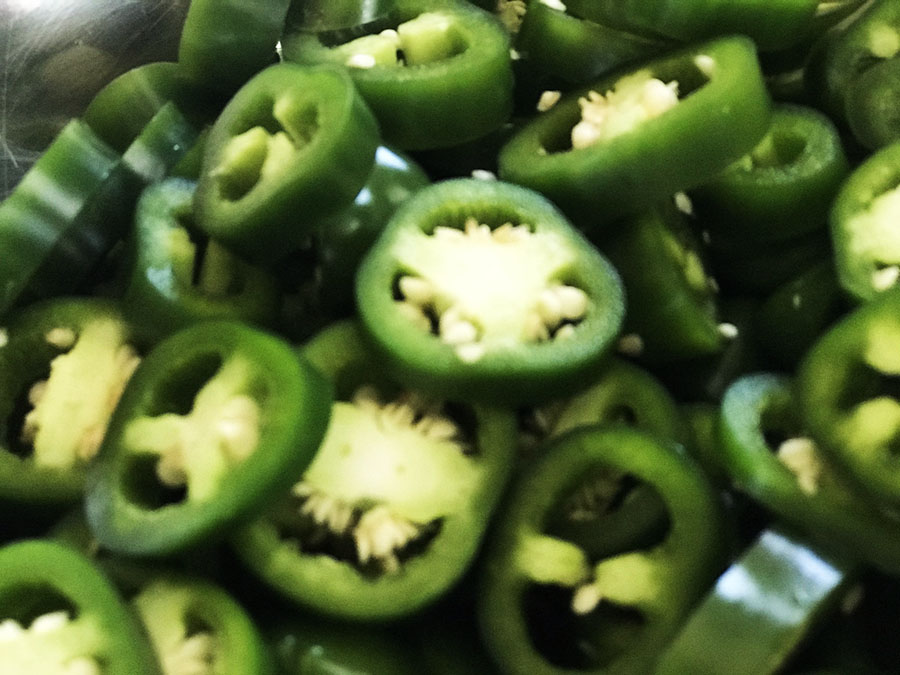 Print
Ingredients
250 grams Jalapeños

1 cup sugar

1/2 cup apple cider vinigar

1/2 teaspoon tumeric

1/2 teaspoon ground ginger

1 teaspoon chilli powder (for that extra kick!)
Print
Directions
Slice all the jalapeños into nice rings and place them in a bowl. (Trust me, wear gloves. Otherwise, you won't have a pleasant time if you rub your eyes afterward or potentially need to use the bathroom.)
Place a pan on the stove, let it heat up, and add the apple cider vinegar, sugar, chili powder, turmeric, and ground ginger together. Stir well. Bring this mixture to a boil, reduce the heat, and let it simmer gently until the sugar transforms into a syrup-like consistency.
Now, add the jalapeños to this mixture and stir thoroughly. Let it simmer for another 4 minutes. The jalapeños might slightly change color, but that's okay.
You should have clean jars by now (if unsure, sterilize them by boiling in water). Transfer the jalapeños into the jars and then pour the jalapeño syrup into the jars until they are all well-filled.
Wipe the edges of the jars clean and seal the lids tightly. Sealed jars can be stored for about a year. Once opened, store the jars in the refrigerator, and they'll last for about 2 to 3 months.