Recently, I came across a TikTok video of someone making a vegetarian version of the familiar spareribs, and I must admit, I'm a true carnivore (actually, an omnivore since I eat almost everything ;-)), but this looked so delicious that I decided to explore it further. And it turns out, it's genuinely amazingly tasty!
The funny thing is, for me, corn is something you usually have as a side dish. I usually grill corn on the cob for a few minutes on the BBQ after boiling them for 5 minutes, with a mixture of butter, finely chopped garlic, and some herbs. And let's be clear, I'm not a fan of giving something a name it doesn't deserve. So, I don't use the term "vegetarian spareribs" because, in my opinion, they're not spareribs. Just like vegetarian chicken pieces should not be called chicken, but well, that's just my view.
Anyway, cornfingers are another trend that originated in the USA but comes from the vegetarian side of things. It's not a territory I often explore, but I wanted to give it a try, and I'm really glad I did. Because this is delicious! It's a lovely summer dish for anyone who wants to enjoy BBQ but prefers not to eat meat.
Important tip: Personally, I find it very helpful when I'm about to make something from the internet that good tips are provided. The most important tip is to buy your corn cobs fresh OR if you've bought packaged ones (pre-cooked), take them out of the fridge for about an hour or two before you start working with them. The core of corn is very hard, and to ensure you don't slip and use excessive force when cutting, it's best to let the cobs come to room temperature before you begin slicing. And, of course, be careful when cutting.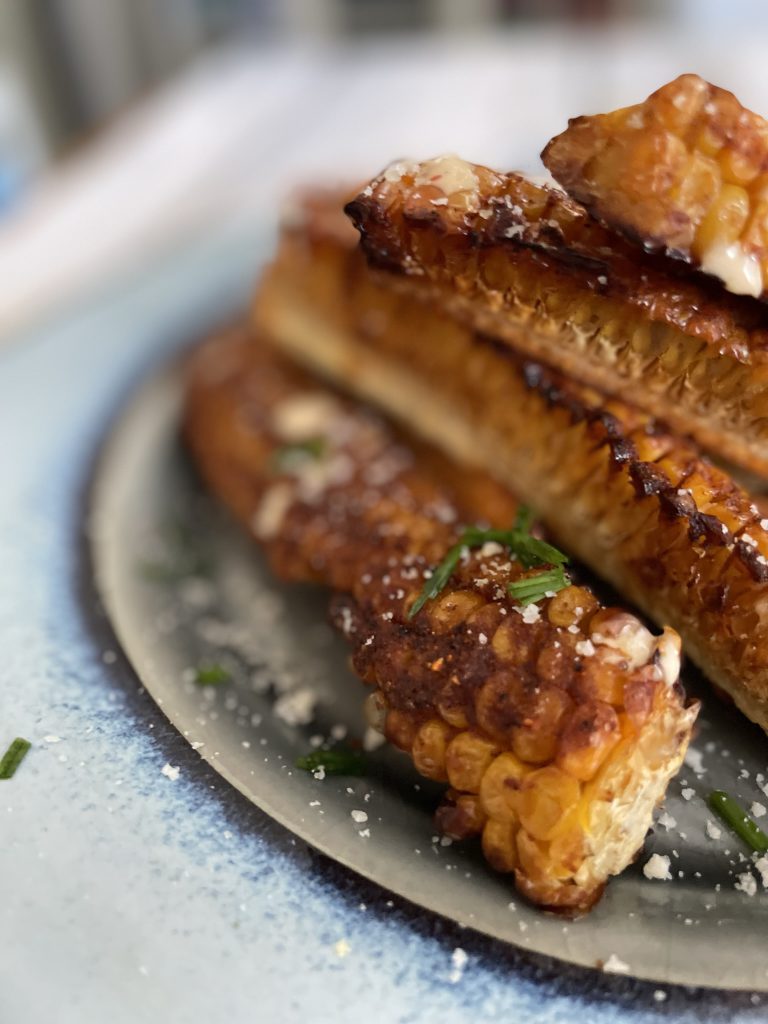 Print
Ingredients
4 corn cobs for 4 people (1 per person)

65ml Olive oil

1 heaping tablespoon smoked paprika powder

1 heaping tablespoon of your favorite All-Purpose BBQ rub

A little salt to taste (if your BBQ rub doesn't contain much salt)

1 teaspoon chili flakes (optional, for some heat)

For the sauce

3 tablespoons mayonnaise

2 teaspoons Sriracha sauce (which I really love)

Juice of 1 lime

A pinch of salt

Before serving

Grated Parmesan cheese

1 teaspoon chili flakes

Finely chopped chives