Don't click away right away, just read it for a moment. Of course, I can already hear many of you shouting 'NO!' when reading the title. And, of course, the standard reaction 'Isn't electric barbecuing just like having a fondue?' But keep reading, and I'll prove you wrong about what you're currently thinking! If you had asked me years ago how I felt about it, it wouldn't have been much different from many of you, dismissing it as something that just can't be done. But I also see that electric BBQs have not been standing still in recent years and are bringing about bizarre innovations nowadays
What is BBQ exactly (in my opinion)?
First of all, let me give you my definition of BBQ. Because what is BBQ? Exactly! Heat and optionally smoke. That's all. And how do you get heat and smoke? Exactly, by fire. Or maybe not… because fire is actually nothing more than a means to create heat and smoke. And that doesn't necessarily have to be fire; it can also be gas or, nowadays, even electricity. Because with electricity, you can create heat and even smoke.
Why choose electric then?
Everyone who enjoys BBQing likes to play with fire, including me. I also love outdoor cooking. I also have a lot of cast iron and give a lot of workshops in authentic outdoor cooking! But let's realize one thing: many of us don't have the possibility to have a large Kamado or gas BBQ. Not all of us have the luxury of a big garden and privacy where you have a huge outdoor kitchen with Kamado(s), a braai, and/or a pizza oven. Many of us have a balcony and can often not BBQ there because it's not allowed by the HOA or landlord, or we get complaints from neighbors, etc. So, you're not allowed to do much with it, unfortunately. And even on vacation, it's often not allowed in many countries during the summer! Unless you have an electric BBQ, but they are often quite simple, and let's admit it, many are actually nothing more than griddles. Until now, that is.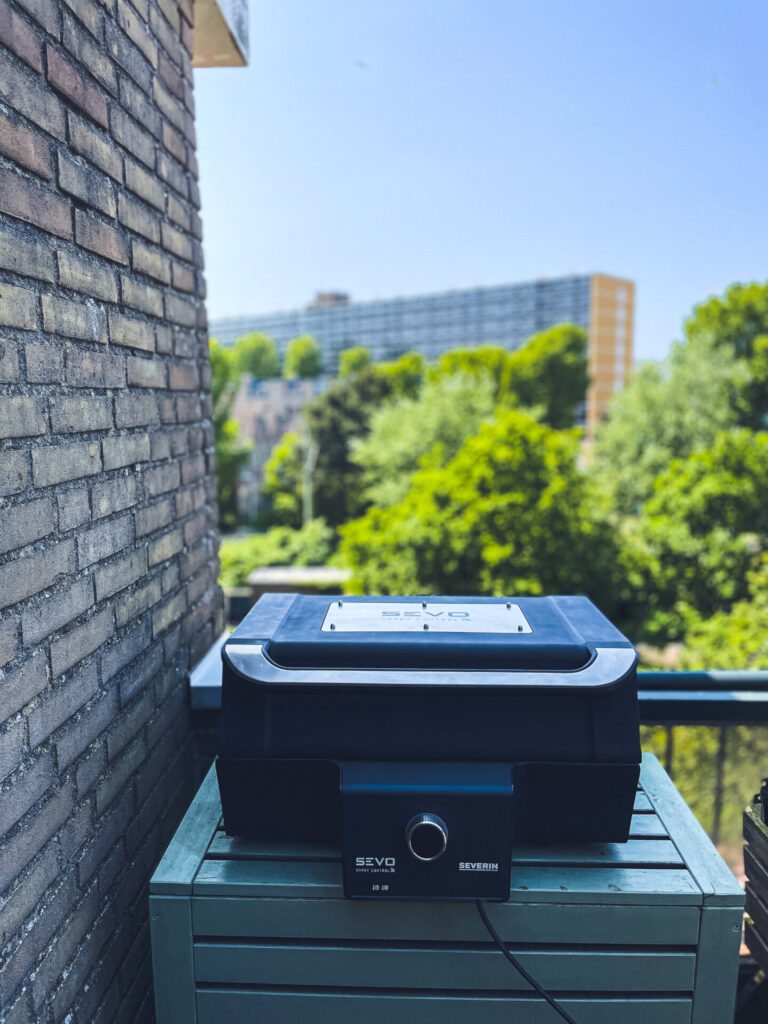 Allow me to introduce…
There's a new player on the market. It's not Weber, not Napoleon, not Cadac, etc., but it comes from a sector you wouldn't immediately think of: Severin! And yes, for those of you who are thinking, 'I know that name,' you're right! You might already have kitchen appliances from them. Severin is a German brand that focuses on kitchen appliances. And because of their experience in that field, they have looked at the concept of 'BBQ' in their own new way. The result? The Severin SEVO GTS eBBQ! A BBQ that really stands out from the other participants in the electric BBQ scene. Finally, a BBQ that you can use to make low and slow pork belly without any problems. A BBQ that can reach temperatures up to a maximum of 500°C (932°F)!!! with ease! A BBQ with two different heat zones, allowing you to grill slowly and then quickly sear for those perfect grill marks in the booster zone. A BBQ that can help you make breakfast on the BBQ using the Plancha, such as American pancakes or scrambled eggs. In short, finally an electric BBQ that allows you to REALLY BBQ without getting angry neighbors, HOAs, or landlords knocking on your door. And, you can easily take it on vacation with you since it weighs less than you would expect! How great is that!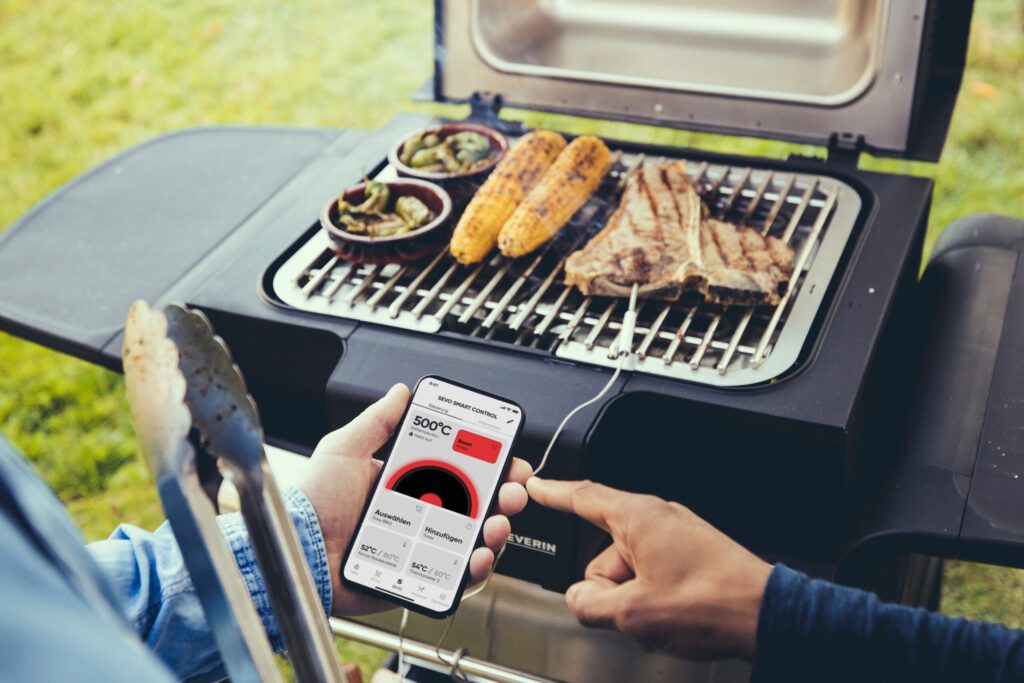 Let's talk specs again
Yes, I know, the boring part with specifications… though it's not really boring. For an electric BBQ, these specifications are actually quite impressive. The BBQ features an OLED display in the front knob and an internal thermometer that measures 80 – 500°C (176 – 932°F) on the BBQ and has 2 probe inputs for a thermometer that measures from 10 to 300°C (50 to 572°F). The BBQ has a maximum temperature of 500°C (932°F) in the booster zone and can reach this temperature from 0 to 500°C (32 to 932°F) in 10 minutes. That, in itself, is already quite impressive. The total grilling surface is 41.5cm by 31.5cm (16.3 inches by 12.4 inches). And that's not small. Okay, it's not an extremely large grilling surface, but once again, if that's what you're looking for, then you're not the target audience, I think. The lid is well-insulated because even if you have the BBQ set to 500°C (932°F), the lid (and the entire BBQ, actually) can still be touched without any problem (and that says a lot, in my opinion). The BBQ comes on its own, but for a little extra, you can get an ideal stand for it, allowing you to place it in the garden and move it around. Considering its qualities, the weight of this BBQ is surprisingly low. It weighs about 15 kg (33 lbs). And that's easy to move around without any problem.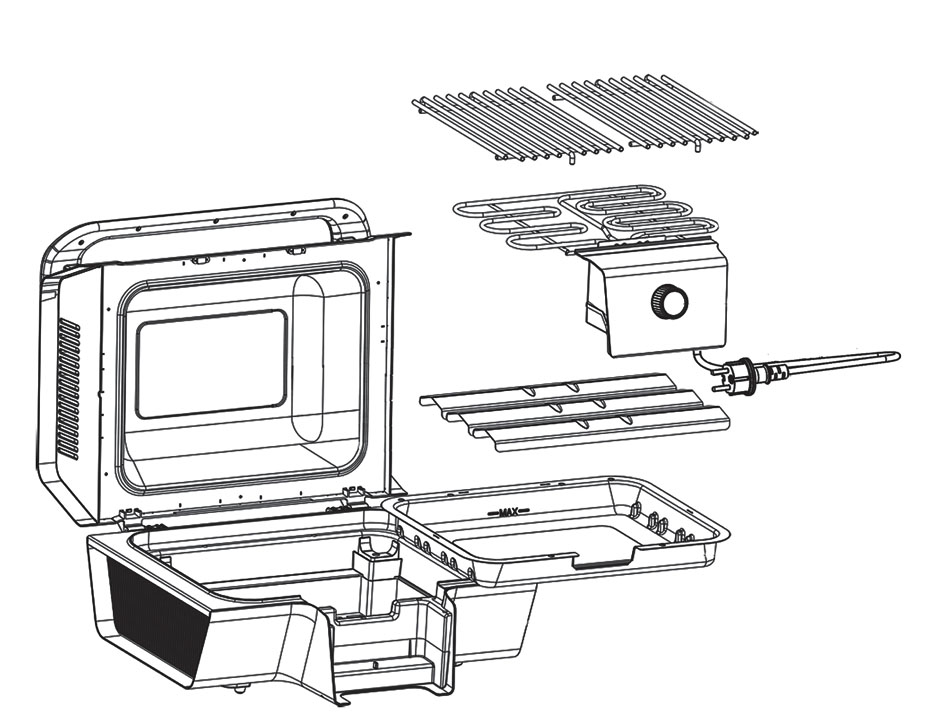 How much power does it use?
Okay, to get the most frequently asked question in the world out of the way: here's the usage, wattage, kilowatts, etc. This might not mean much to many, so I'll explain it practically. I took the meter reading in the morning and after I turned off the BBQ. I also made sure that I could use the exact same devices for two consecutive days, so I had a good baseline. Now, on a summer day, I have an average usage of 2.5 kWh (kilowatt-hours) (refrigerator on and TV in the evening, nothing more). And after BBQing, the total usage was just under 5 kWh. So, in the end, we used a little over 2 kWh for BBQing. When comparing this to the most commonly used comparison, which is a fondue set that many of us have sitting on a cabinet or in storage for the 1 or 2 times we find it fun to do, the excuse that this uses a lot of power no longer holds. And especially not if you have solar panels or another more sustainable source, then it costs you absolutely Nothing!
"There's an App for That"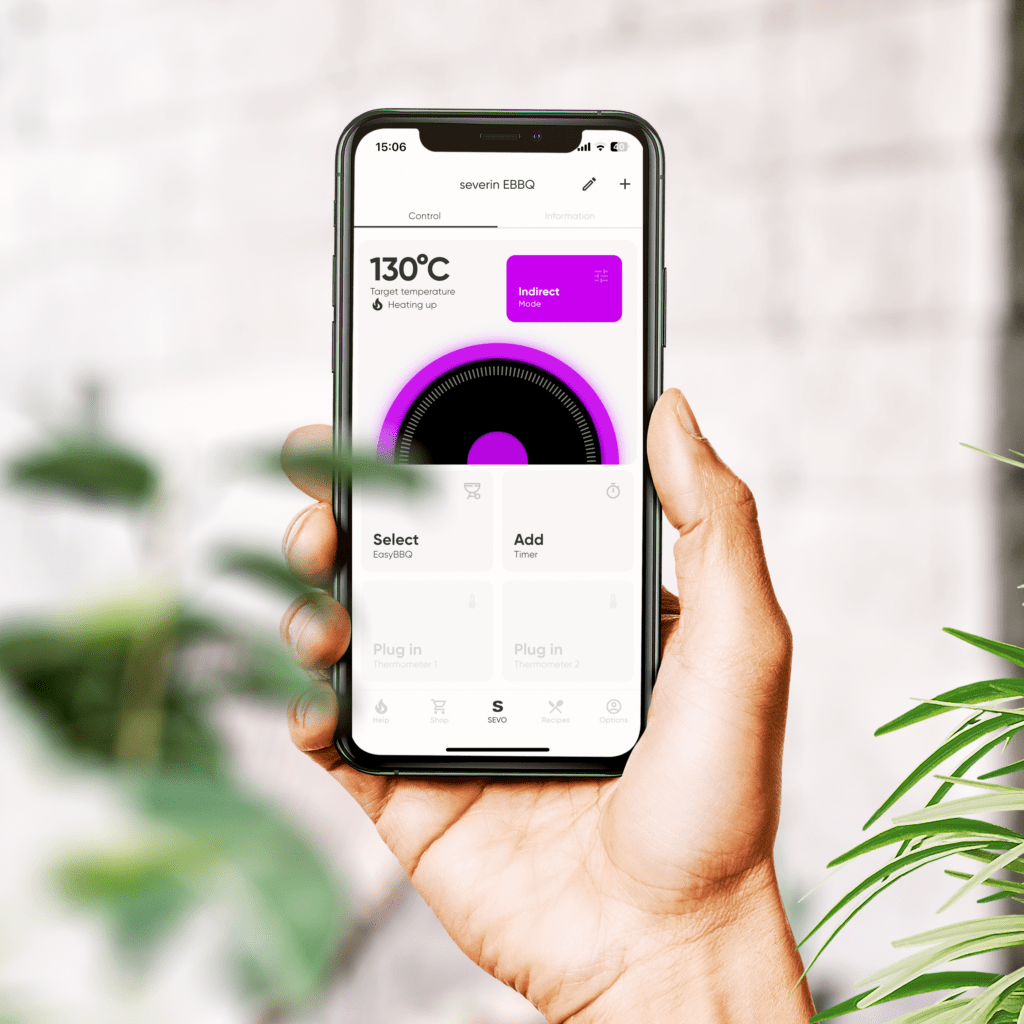 In 2023, it would be strange if this BBQ didn't come with an app. And Severin also has one, of course. Once you've connected the app to your BBQ within a few minutes, the app works seamlessly with the BBQ. The app itself is packed with recipes, including many that you can directly set up on this BBQ to make grilling even more convenient. And I hear some of you thinking, 'That's not new.' Correct. GMG has also been using this in their app for a few years now. But that doesn't make it any less useful, right?
Advantages of this BBQ
Okay, when I talk about the advantages of this BBQ, you can basically read my entire story above. There's a lot in there. It's a BBQ that finally meets all the desires of a true BBQ enthusiast. You can use it for indirect BBQing, direct BBQing, it has a booster zone. It's lightweight, versatile, and allowed everywhere on every balcony because you're not using an open flame, which is often the problem. There are plenty of extras available, like a plancha, a grill grate for those perfect grill marks, a smoker box if you want to add smoke, extra probes, and you could even place a rectangular pizza stone on it if you want (I've seen these for as low as 10 to 20 euros at a certain supermarket where they (wink) sell all the other stuff you often get for little money). The consumption is relatively low, so you don't have to feel guilty in today's world about firing up the BBQ. And it looks cool too! And I haven't even mentioned how easy this BBQ is to clean. Because it can be easily disassembled and the parts clean themselves effectively, it lasts longer and you don't have to worry if it won't be used for a while.
Are there any drawbacks?
I'd be lying if I said that this BBQ is perfect… because it's not. Even though I said that the grilling surface isn't small, I can understand that it might be a deal-breaker for some who want to make a lot of spare ribs at once or a huge piece of pulled pork. Another important point is taking this BBQ on the go. It's not necessarily a drawback, but I might miss that 9-volt car battery solution, like the one you have with the GMG pellet grill, for example. Granted, the difference in power consumption and required power between the two can't be compared, but tailgating with this BBQ isn't immediately possible (and it would be perfect for that!). If I look further at the BBQ, I can't immediately think of any drawbacks. It's a great BBQ with many features that you simply don't have on many other electric BBQs!
What kind of price are we talking about?
In terms of price, it might be a drawback for some because this BBQ and all the associated features come at a cost. A cost that, if you only want to grill a hamburger or slightly char a few chicken skewers, might seem high, and for much less, you could get a grill. To those in that group, I'd like to say that BBQing is more than just those soggy, semi-raw burgers from the supermarket or overly charred satay skewers. Even in the recipe database on my website, you can find incredibly simple recipes for the BBQ. Currently, the price is around €699. And that can be steep. Because for that price, you could also get a Kamado, but remember again, you're not allowed to have a Kamado everywhere, unfortunately, on balconies or courtyards. Do know that for that price, you're getting a BBQ that's extremely durable in use, lifespan, and that you can really have a lot of fun with.
Final Conclusion
Okay, is this the ultimate BBQ? Yes and no. Yes, for everyone who doesn't have a garden but a balcony. Yes, for anyone who wants to grill outside without the potential hassle of charcoal or gas, yes for all those people who are not allowed to BBQ with charcoal or gas due to HOAs, landlords, or have issues with neighbors who can't stand the smell. This BBQ is perfect for those who want to do low and slow even on vacation. It's ideal for those who enjoy smart BBQing. For those who have all the space for that Braai, those big Kamados, or huge outdoor kitchens, this might not be interesting. With a price of approximately €700, it's a more expensive BBQ, but one that can do everything a regular BBQ can do without any problems. In terms of looks, I find it pretty cool. It's reminiscent of that design BBQ by Heston Blumenthal (search for it, and you'll see what I mean). It's an eye-catcher in your garden, on your balcony, or while on vacation. It's lightweight, has low energy consumption, and looks fantastic. And I haven't even mentioned how easy it is to clean. Because it can be easily disassembled, and the parts clean themselves well, it will last even longer, and you don't have to worry if it's not used for a while.
Important!
I have not been paid in any way to write this review, and the content is entirely based on my own personal opinion and does not reflect others.
Sources used for specs: https://severin.com/nl-nl/