Many of my recipes are centered around BBQ, which is great because BBQ is always delicious. However, sometimes you might not want or be able to use the grill. In those cases, I turn to other cooking methods. In my kitchen, I have various tools at my disposal, including a slow cooker/sous-vide, a multi-grill, and even an Airfryer. Although my Airfryer has many more functions besides air frying, such as roasting, dehydrating, etc. So, it's not just your standard air fryer for fries and snacks, as I always used to say, but a truly multifunctional device.
Anyway, I often make use of a slow cooker when I don't want to have a stew pot on the BBQ. A slow cooker is a kitchen appliance that you really should have. It's ideal to prepare in the morning and then simply set it to cook on low for 8 hours, so when you come home, you have a delicious slow-cooked meal ready and waiting for you.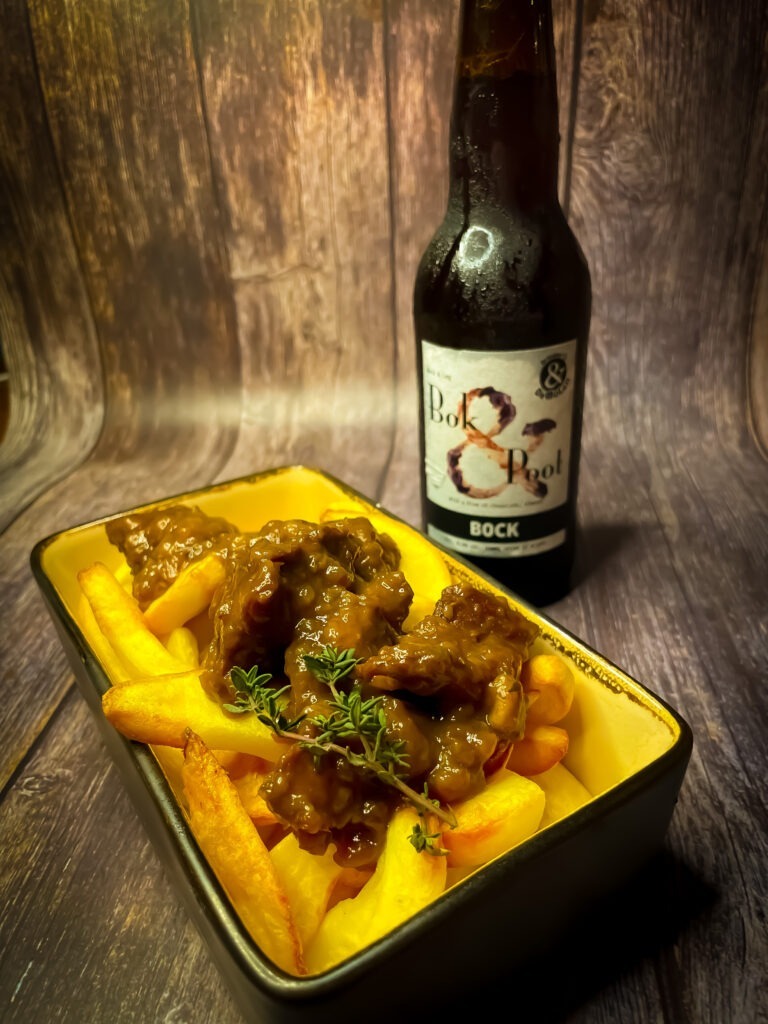 In the summer, you might use it less, but during the winter, like now, it's truly ideal for making stew dishes. I'm a big fan of slow-cooked dishes as well. By cooking low and slow, you'll notice that many flavors, which would otherwise be lost in quick preparations, become distinct and pronounced. Meat becomes incredibly tender, herbs infuse well into the meat and sauce. In short, it's a great way to cook quickly and still enjoy delicious results.
One of my favorite dishes is Flemish stew. Beef cooked in beer with just a few other ingredients. Delicious. For this recipe, I'm fortunate to have access to flavorful and high-quality beef, specifically meat from Scottish Highland cattle. There's a butcher in Rijswijk who occasionally prepares and sells this meat. These beautiful cattle roam freely in the dunes and primarily eat what they find there. This results in dark, flavorful beef with a great fat ratio. I've even written a review about it that you can read here.
For the beer, I've used a delicious local brew from Bodegraven, namely Brouwerij de Molen. They have a great variety of beers that I highly recommend. For this recipe, I used "Bok & Poot," a sweet beer where you can truly recognize the familiar taste of a bokkenpoot (a Dutch pastry). This beer is also a perfect match for this delightful stew.
Print
Ingredients
1 kg beef chuck or stewing beef

2 onions, finely chopped

100 grams of butter

100 ml water

1 tablespoon of red wine vinegar

A sprig of thyme

A sprig of rosemary

2 bay leaves

2 slices of old bread

2 tablespoons of mustard (1 tablespoon per slice of bread)

1 tablespoon of brown sugar

1 heaping tablespoon of apple syrup

2 cloves (to be removed later)
Print
Directions
Place the beef, beer, chopped onions, red wine vinegar, butter, water, apple syrup, and brown sugar in the slow cooker.
Take the 2 slices of bread and spread them generously with mustard. Then place them on top of the stew with the mustard side down. The bread will dissolve and thicken the sauce. This is an old trick and perfect for reducing food waste.
Add the bay leaves, cloves, rosemary, and thyme to the slow cooker.
Set the slow cooker to low (8 hours) and let it work its magic on low and slow.
After 8 hours, remove the bay leaves, cloves, and sprigs of rosemary and thyme from the slow cooker. Stir the mixture well. You'll notice that the bread has completely dissolved into the sauce.
TIP: Prepare a portion of Belgian fries (frites) per person and serve the Flemish stew on top. I say, enjoy!