In these cold and rainy days, I always crave a comforting meal that I can enjoy on the couch from a deep bowl. And if there's one dish that's perfect for this, it's hachee. Even though the traditional dish originally comes from France, we Dutch have truly embraced and made it our own. And it's so incredibly simple. With a few ingredients, you have an amazing dish.
The slow cooker
A slow cooker is something that originated in the USA, but the concept of slow cooking is as old as the hills. And yes, you can make this delicious dish on the stove in cast iron pots, but let's be honest—not everyone has that luxury or the time or desire to do so. For those people (including myself occasionally), there's the slow cooker. And it comes in many sizes. I have a very handy one from the brand Espressions that can also be used as a 'Sous-vide' cooker (another cooking method that I might revisit later).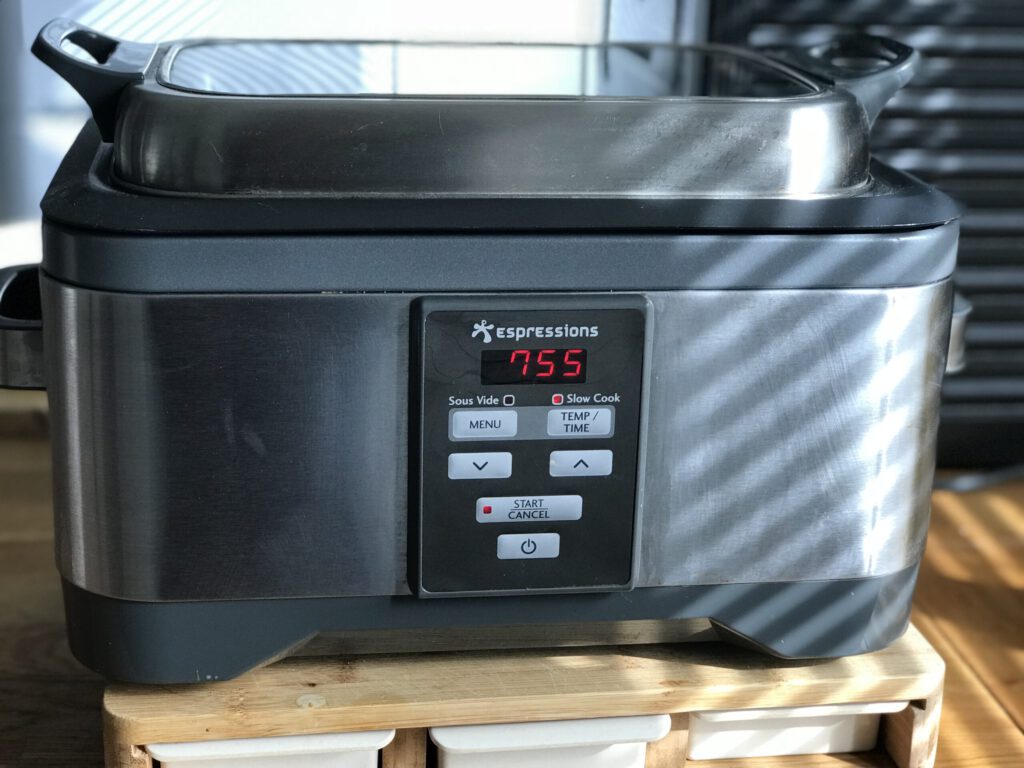 Cooking with Beer
I love creating recipes using products from others. Recently, I discovered De Molen Brewery from Bodegraven, and I tasted some of their beers at a BBQ event in IJmuiden. Each one was excellent, so, of course, I wanted to incorporate them into my recipes. I've already made a delicious Flemish stew with one of their beers. This time, it's a stew again, but one with a more 'Dutch' twist. Although the word 'Hachee' originally comes from France, in the Netherlands, we've truly made this dish our own. It pairs well with one of the beers from this brewery, namely the Schwarzwalder Kirch Stout beer.
Now, you might be thinking, isn't that a cake? You're right! But you can also taste those flavors in this beer due to its chocolate, caramel, and cherry notes. The combination immediately brings the Black Forest cake to mind. And because it's a stout beer, it's also perfect for a hearty hachee.
Print
Ingredients
500 grams of beef, cut into pieces of approximately 2 cm

3 large onions, sliced into half rings

4 slices of gingerbread

2 tbsp red wine vinegar

4 cloves

3 cloves of garlic, finely chopped

2 dried bay leaves

2 tbsp apple syrup

1 tsp peppercorns

1 beef bouillon cube
Print
Directions
Place all ingredients in the slow cooker (if you want it ready by 6 pm, set the slow cooker to start at 10 am on the high setting or at 1 pm on slow). Finally, crumble the gingerbread and the bouillon cube over everything.
Set the slow cooker to 5 hours on high (or 8 hours on slow).
Occasionally stir everything gently and quickly put the lid back on the pot.
Before serving, remove the bay leaves (and optionally the cloves) from the slow cooker and ladle it into a deep bowl.
Tip: Hachee pairs wonderfully with mashed potatoes.