I must admit, when my butcher gave me beef heart to create a dish for the "from head to tail" series, I had to pause for a moment. Heart wasn't initially on my list of dishes to try. In the "from head to tail" series, I had the opportunity from my butcher to work with "forgotten meat." This refers to cuts of meat that are rarely used in Dutch kitchens nowadays but are secretly quite delicious. Beef heart is one of those cuts. Even though many people may cringe at the thought of beef heart, it's actually incredibly tasty! And while it's not commonly consumed in the Netherlands anymore, in other parts of the world, it's considered one of the more flavorful parts of the cow.
Now, I could choose to make beef heart skewers (which are absolutely DELICIOUS, by the way), but I wanted to try something different. So, I decided to dive into my collection of cookbooks, especially the older ones, for inspiration. That's when I found several similar recipes for a stew, which aligns perfectly with my cooking style. With some adjustments and my own twist, I created this beef heart stew recipe for the Dutch Oven. And let me tell you, it was incredibly delicious! I should mention that this is a recipe suitable for fall and winter, but for stew lovers like me, I enjoyed it even in the summer.
Dutch Ovens Just like forgotten meats, Dutch ovens have seemingly disappeared from our kitchens. However, there has been a resurgence in recent years, and you can now find more and more webshops offering high-quality Dutch ovens and braising pans, like Gaer Cookware, as well as BBQ webshops like Vuur & rook or Green Forest BBQ's & Grills. A Dutch Oven is essentially a braising pan that was brought to places like America by Dutch immigrants. It was mainly used for cooking over an open fire but could also be used for baking bread, among other things.
Beef Heart Beef heart is a cut of meat that has fallen into obscurity in recent years, which is unfortunate. Its flavor is not, as many wrongly assume, similar to organ meat. No, beef heart has a genuine and robust beefy flavor. You can somewhat compare it to strips of steak but less tough. And that flavor truly shines in the recipe below. So, for anyone still uncertain about putting beef heart on the menu, stop hesitating, visit your butcher, and ask if they can provide you with beef heart. The preparation methods are quite versatile. The most well-known are skewers and stew, but what many don't know is that you can also make excellent broth from beef heart! Regardless, it's a highly underrated piece of meat these days.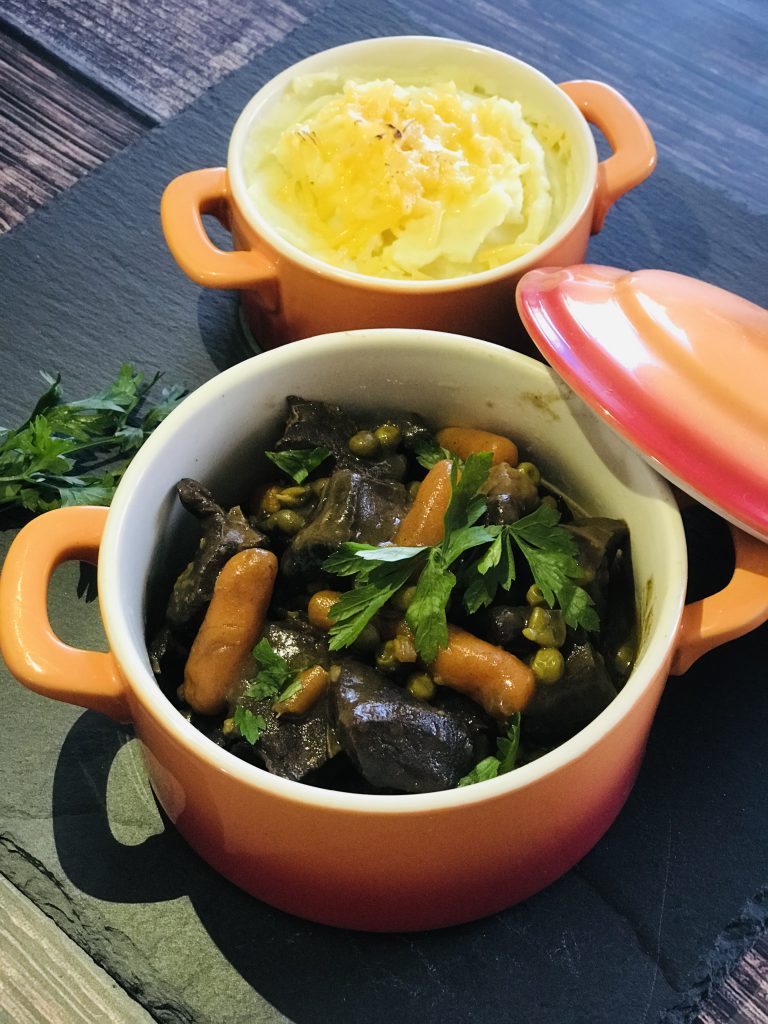 Print
Ingredients
1 kg beef heart (cut into cubes)

2 sweet onions (thinly sliced into strips)

2 tablespoons paprika powder

2 tablespoons cumin powder

Salt and pepper to taste

1/2 liter of beef broth

1/2 liter of red wine

3 tablespoons apple syrup

100 grams of unsalted butter

Parsley (for garnish)
Print
Directions
Get ready, this is going to take a while. We'll be dedicating about 7 hours to this stew, and why so long? Because it's going to be a delicious slow-cooked stew.
Set up your BBQ for indirect grilling and keep the temperature at around 120-130°C. Place the Dutch Oven on the BBQ to preheat.
Once the Dutch Oven is up to temperature, add the butter and the sliced onions. Stir occasionally to sauté the onions, and after about 5 minutes, add the beef heart cubes to brown briefly.
Add the beef broth and red wine to the Dutch Oven.
Put the lid on the Dutch Oven and let it simmer for the next 5 hours at 120-130°C. Stir occasionally, but otherwise, let the pot do its thing.
After 5 hours of simmering, add the peas and carrots to the stew. Stir well and partially cover the pot so that the liquid can slowly reduce. Stir occasionally. Let the stew continue to simmer for another 1 1/2 to 2 hours.
After 7 hours of simmering, remove the lid from the pot and stir well. If the stew is still a bit too watery, you can add a tablespoon of flour to thicken it slightly. The stew is now ready, and we recommend serving it with a delicious mashed potato puree.