Personally, I find Christmas to be one of the most wonderful times of the year. I often make sure I have a few days around Christmas to enjoy some time off and spend it in the kitchen and behind the BBQ. I like to go all out during these days. Every year, I aim to create a truly grand dish that everyone can savor. It can be anything, from Christmas roasts to stuffed turkey, or, in this case, a delicious Christmas Porchetta. Recently, my local butcher (De Jong Butcher in Rijswijk) provided me with a beautiful piece of pork belly with the skin on. Your local butcher should offer this as well, and if it's not displayed, just ask, and most likely, your butcher will be happy to provide it. (And let's face it, buying from a local butcher is so much better than those big supermarkets… you know you're getting quality!)
But back to Porchetta. It's a dish that can be enjoyed throughout the year (I love it), but during Christmas, you can go all out and make it the showstopper of your holiday dinner. And this recipe is one you can prepare on the BBQ. It requires a bit of preparation, but once it's on the BBQ, it's not that difficult. You'll need to monitor the temperatures from time to time to ensure everything is cooked, but that's about it.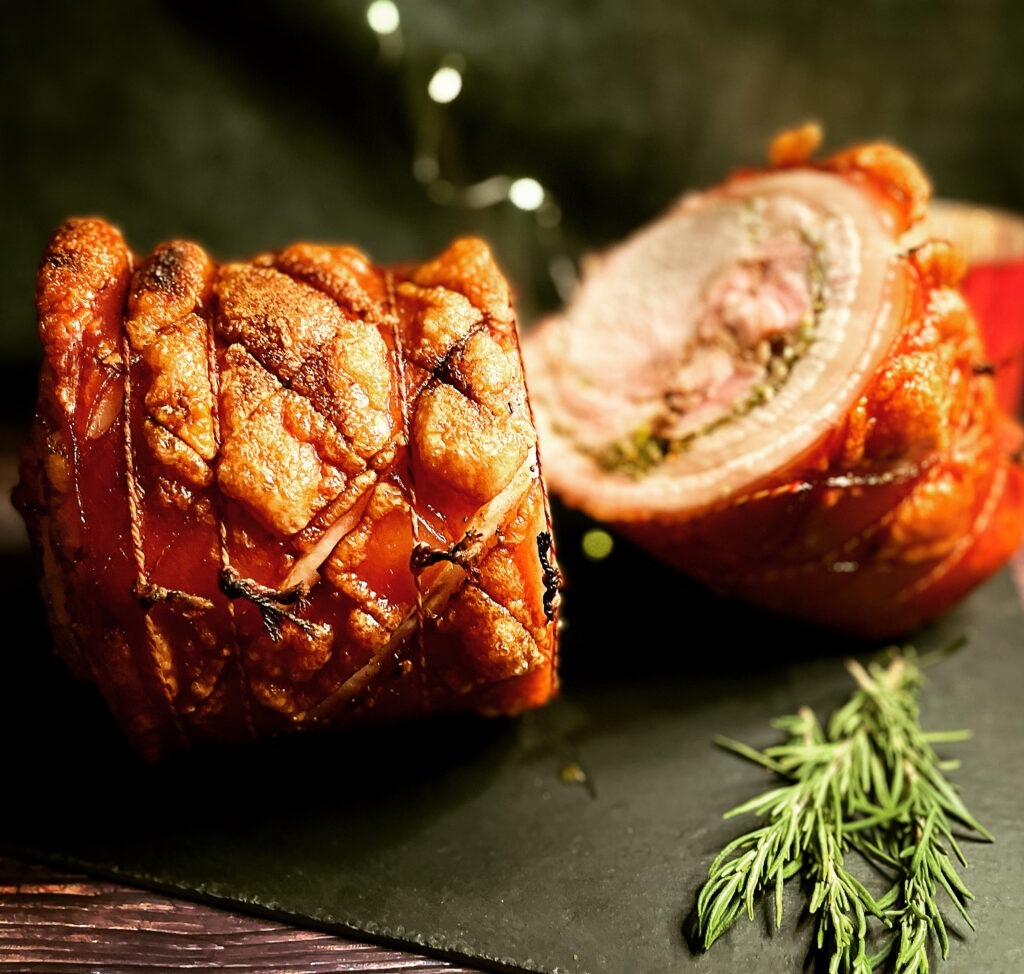 Porchetta, essentially, means nothing more than "pork belly roast" in Italian. You can slice it thick for the main course, but making Porchetta for Christmas also has the advantage that you can slice thin pieces for sandwiches the next day. So, your breakfast or Christmas lunch/brunch on Boxing Day is guaranteed to be a success!
So, what exactly do we need for this? Below is the recipe and the list of ingredients you'll need.
Print
Ingredients
2 kilograms of Pork Belly with the skin (enough for 4 people and some leftovers for the next day)

5 mandarins (zest the peel, squeeze for juice, and finely chop the remaining flesh)

Rosemary

Bay leaves (finely chopped)

Bunch of cilantro (finely chopped)

2 tablespoons of black pepper (finely ground)

4 cloves of garlic (pressed or finely chopped)

Additional Supplies

Butcher's twine

A sharp knife to cut the porchetta

A good thermometer. I have one from Thermaworks called the Thermapen)
Print
Directions
Start your BBQ and set it up for indirect grilling at 130°C (266°F). If you're using an oven, preheat it to 130°C (266°F).
Place the pork belly with the skin side up and gently score it with a knife, creating a diamond pattern. Be careful not to cut too deep.
Lay the pork belly with the skin side down in front of you and horizontally slice it without cutting all the way through, as if you were making a book with one page.
Mix all the remaining ingredients in a bowl and rub this mixture evenly over both sides of the pork belly, including the "inside of the book" and the "page" you just sliced.
Roll up the pork belly into a nice cylinder and tie it securely with butcher's twine to create the porchetta.
Place the porchetta on a grilling rack in your BBQ or in an ovenproof dish in a preheated oven. Ensure there's a large tray underneath if you're cooking it in the BBQ to catch the drippings (you can use this for crisping up the porchetta later).
For an extra smoky flavor, add some wood chips to the BBQ. Cherry or hickory wood chips work well for this.
Monitor the porchetta's internal temperature with a good thermometer. Wait until it reaches 70°C (158°F). Larger porchettas will take longer to reach this temperature.
Once the porchetta reaches 70°C (158°F), increase the BBQ temperature to 240°C (464°F) to crisp up the skin. Tip: Occasionally baste the skin with some of the drippings to speed up the crisping process.
This crisping phase takes about 20 minutes, but keep a close eye on the skin to ensure it doesn't get too dark.
Remove the porchetta from the BBQ or oven and let it rest for 10 minutes.
Slice beautiful pieces of porchetta, and enjoy your festive meal!
TIP FOR THE DAY AFTER CHRISTMAS: If you have leftover porchetta, make delicious sandwiches with thin slices of porchetta, some greens, and top it with sweet mayo or Sriracha mayonnaise. A perfect treat for Boxing Day!