If you were to ask me what could wake me up in the middle of the night, you can definitely count on spare ribs being on that list, but I'm ALWAYS up for Mexican food. Nachos, tacos, you name it. Speaking of the latter, I have some exciting news about that soon. But let's talk about nachos for now because it's truly one of my favorite snacks. Nowadays, you can make a really delicious dish with them.
By the way, this dish is also on the menu at many BBQ restaurants, but you can easily make it at home. Once you've made it at home, you won't want anything else.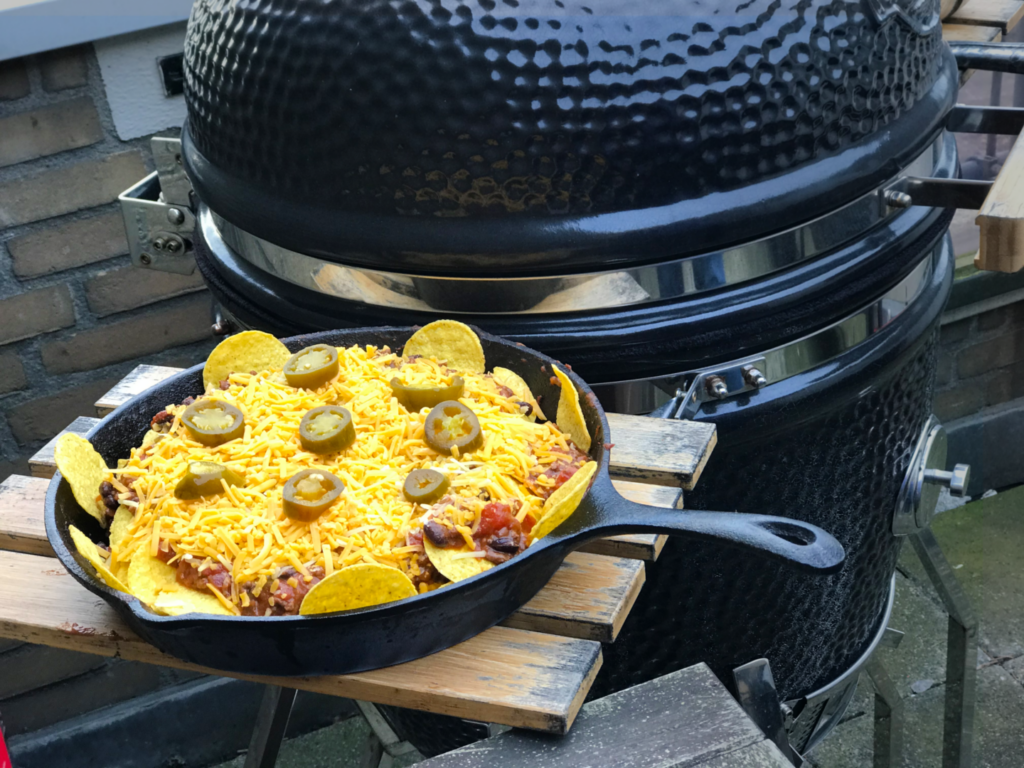 Print
Ingredients
1 kg ground beef

Taco seasoning (4 tablespoons)

1 can of diced tomatoes

1 jar of salsa dip

1 can of black beans

1 to 2 bags of nacho chips

Bag of shredded cheddar cheese (or 1 block to grate)

Bag of shredded aged cheese

(Optional: jalapeno slices as toppings)
Print
Directions
Cook the ground beef in a skillet with the taco seasoning until it's crumbled.
Add the diced tomatoes, salsa, and black beans to the skillet, and stir until it forms a nice sauce.
Take a Dutch Oven or baking dish and cover the bottom with a layer of nacho chips. Spoon some of the beef mixture over it and sprinkle with shredded cheese and cheddar.
Then, add another layer of nacho chips and repeat the above steps until the pan is full.
Now, cover the pan with a lid and place it on the BBQ or over the fire briefly to melt the cheese.
The dish is now ready to be enjoyed!