Alright, I need to confess something—I was never really a fan of this type of cheese. There, I said it! But, after this past summer vacation, I completely changed my mind. During a dinner outing at a local restaurant in Holcombe, Somerset, England, we had a "Baked Camembert" as an appetizer. The Camembert was warmed in its wooden casing in the oven until it turned wonderfully creamy and soft. It was served with mini breadsticks and a delightful homemade chutney. And let me tell you, it was incredibly delicious. So, yes, once you're back home, you start to think and wonder if you can recreate it yourself, and guess what? It's truly that easy.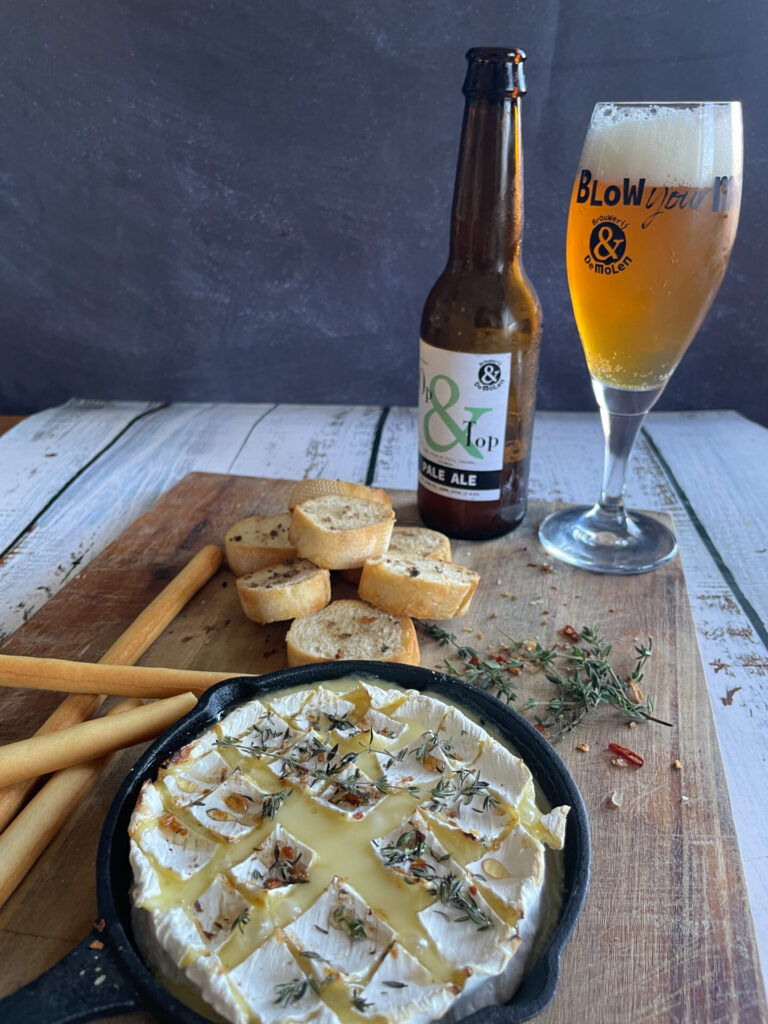 Instead of using the wooden casing/packaging, I opted to place the Camembert in the skillet. You can put it on the BBQ with a touch of smoking wood or simply use your oven if you don't have that. In fact, you could even do it in the air fryer! It couldn't get any simpler than this. And once you've made it once, you'll want to make it over and over again. Instead of just breadsticks, I went for sliced baguette with olive oil and special oven-baked salt.
Pure Salt
The salt that i use here in the Netherlands is from the company Zeeuwsche Zoute. It's harvested from a branche from the northsea in the dutch provence called "Zeeland" and is called "De Oosterschelde" that has a huge historical meaning for the Dutch. And that already has me hooked since i love locally produced salt. This salt is of such high quality, that restaurants with a michelin star and famous chefs use it in their dishes. I will write a complete article about them soon.
Beertip!
f you want a good beer to go a long this wonderfull appetizer dish than i would suggest a Pale Ale or Triple beer. The taste of these type of beers really do combine very well with a strong cheese flavour like Camembert cheese. Here in the Netherlands i
Print
Ingredients
240 grams of Camembert

Thyme (preferably fresh, about 3 sprigs)

Honey (1 to 2 tablespoons to drizzle over)

1 teaspoon chili flakes

Breadsticks or thinly sliced baguette with olive oil and oven-baked salt
Print
Directions
Preheat your BBQ or oven to 180°C (350°F).
Place the Camembert in the mini skillet and create a nice diamond pattern on top (not too deep).
Generously sprinkle thyme leaves over it, then drizzle the honey, and finally sprinkle the chili flakes on top. Put the skillet in the oven and set the timer for 13 minutes.
Check around the 10-minute mark if the cheese is nicely creamy and soft. If yes, you can take it out; if not, leave it in for a few more minutes. Don't leave it for too long, as it will harden again, and you wouldn't want that.
Serve with delicious thinly sliced baguette drizzled with olive oil and oven-baked salt or some tasty breadsticks. Enjoy your meal!