I often hear many people say that they're sad the summer is over. I completely disagree with this. Autumn is a wonderful season with amazing colors, scents, and spices that go perfectly with this time of year. Cinnamon, anise, ginger, speculaas spices, and of course, maple syrup – all of these are truly autumnal. I really enjoy it. And while you can certainly use your barbecue for this, it's not always necessary. This is the kind of recipe that's perfect after a lovely walk in the woods. You come home, turn on the oven, pop in these ribs, and within half an hour, the house is already filled with the delightful aroma of the blend of spices and pork.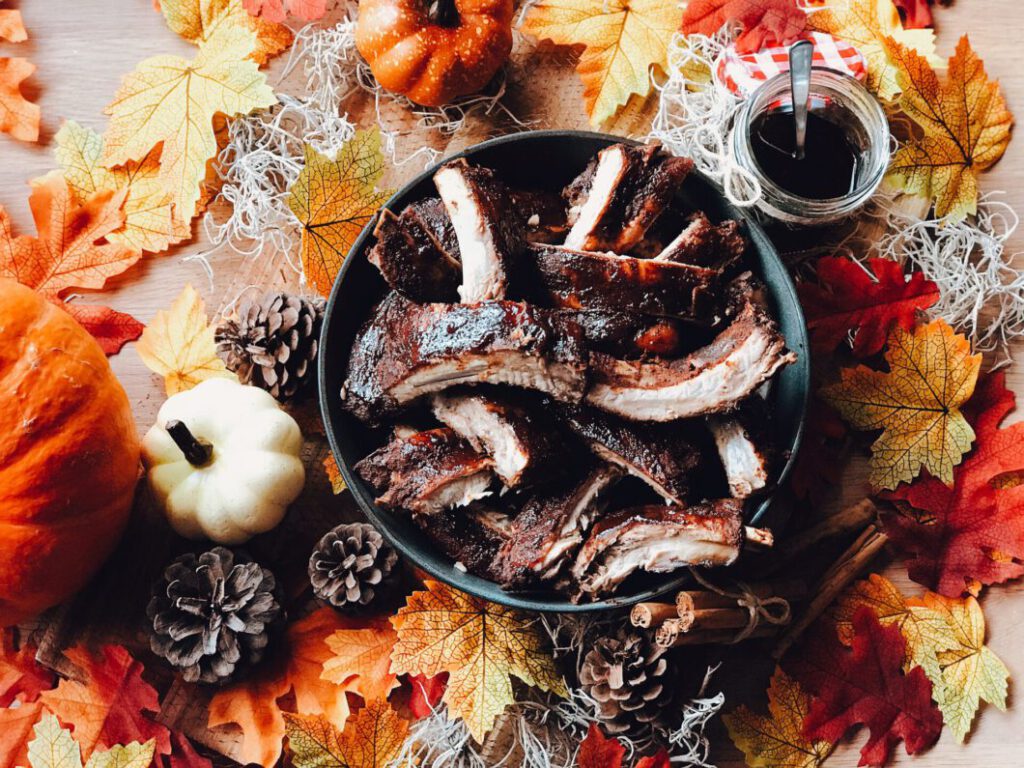 "Cinnamon cannot be combined with meat."
I've heard this sentence many times, and I strongly disagree. In fact, in my collection of cookbooks here, there are a few quite old cookbooks. One of those books includes a list of seasonal spices and what they are used for. Cinnamon is clearly not mentioned as a flavor enhancer in combination with spices. And as I mentioned, I disagree with this. Something that this recipe also proves.
Enjoy this deliciously sweet and even slightly spicy recipe that's truly easy to make in the oven. And most importantly, let me know what you think of it!
Geen slager in de buurt? Klik hier voor de grote alsmaar groeiende online slagerslijst!
Print
Ingredients
2 racks of spare ribs

2 cups of apple juice

for the dry rub

1/3 cup brown sugar

1 tablespoon garlic powder

1 tablespoon paprika powder

2 teaspoons cinnamon powder

1 teaspoon chipotle powder

1 tablespoon allspice spices

1 teaspoon ground ginger

For the glaze

1 cup maple syrup
Print
Directions
Start 1 day before you want to make these and remove the membrane from the ribs.
Put all the ingredients for the dryrub in a bowl and mix them together.
now rub the ribs thoroughly with the rub and put them away in the cooler for minimal of 2 hours but max 8.
On the day that you want to make these ribs, put the oven on 120C. If you want to make these on the BBQ, prepare the BBQ for indirect grilling and also on 120C.
Put the ribs on the grill or in the oven and set the timer for 2 hours.
After 2 hours, you wrap the ribs into aluminium foil and pour some apple juice into the foil before closing. Put the ribs back in the oven or on the BBQ for another hour.
after 1 hour, pull the ribs out of the foil and put them back on the BBQ or in the grill. glaze the ribs gently 1 or 2 times with the maple syrup during this hour