Many who follow me on my social media channels know that I have a weakness for tacos. I absolutely love them. In fact, I recently participated in a national competition for the tastiest taco in the Netherlands organized by Santa Maria! And I can proudly say that my recipe made it to the top 5 for the tastiest recipes in the Netherlands in 2022!
This recipe is made with fish. And yes, I live in Scheveningen (the Netherlands) where there's quite a lot of fish available. Near where I live, there are many specialty fish shops. And one of the types of fish I often get there is smoked mackerel. Something that is already very tasty on its own, but you can do a lot more with it. Like these fish tacos. And I guarantee you, this is an incredibly delicious dish for 4 people (costing around 4 euros per person).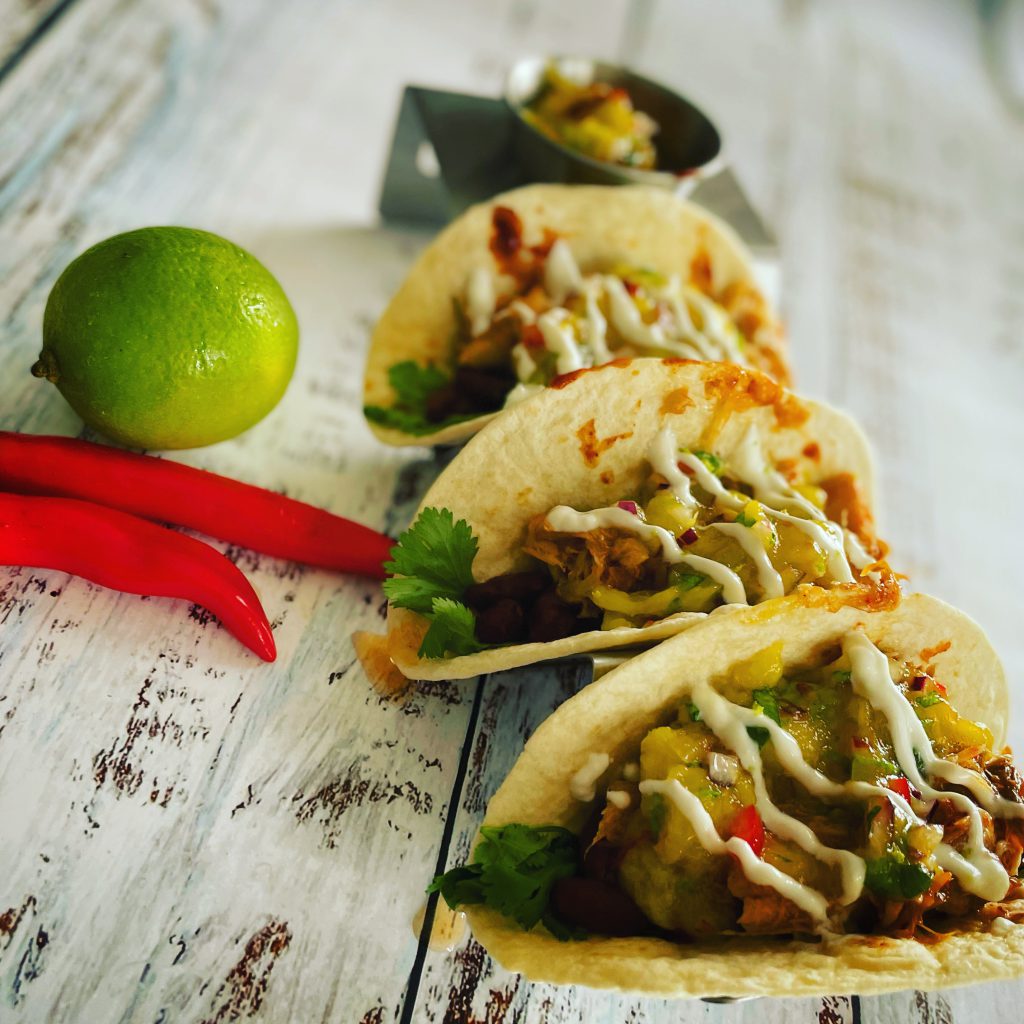 Print
Ingredients
8 small tortilla wraps

1 smoked mackerel (deboned)

1 can of mango in juice

1 can of Santa Maria Mexican style Chilli Beans

1 red onion

2 limes

Coriander

1 red pepper (finely chopped)

1 teaspoon paprika powder

1 teaspoon cumin powder

1 teaspoon cumin powder

1 jar of Santa Maria Salsa (Peach & Chilli)

Sour cream
Print
Directions
Remove all the bones from the smoked mackerel. Place all the mackerel pieces in a bowl and set them aside. If you want to learn how to do it, check out this video.
Open the can of mango in juice and take out all the mango pieces. Dice these pieces finely and put them in a bowl.
Finely chop a small handful of coriander and add it to the bowl with the mango.
Finely chop a red onion. Add half of the onion to the bowl with the mango, and set the other half aside.
Finely chop a red pepper and add it to the bowl with the mango. If you want a really spicy salsa, include the seeds; if not, omit them.
Squeeze the juice of one lime and add 1 1/2 tablespoons of juice to the salsa mixture. Stir everything well and set it aside for later.
Heat a pan with a little olive oil. Add the remaining chopped red onion to the pan and stir. Add a teaspoon of cumin powder and a teaspoon of paprika powder. Stir again. Add half of the can of Mexican style chili beans and mix well. Let the sauce simmer and reduce. Transfer everything to a bowl and set aside for assembling the tacos later.
In the same pan, heat the mackerel pieces and pour in half of the jar of Peach & Chilli salsa from Santa Maria. Stir well and let it become hot. Remove the mixture from the pan and place it in the bowl where the mackerel was earlier, ready for serving.
In another bowl, mix the sour cream, lime juice, and some lime zest. (In Mexico, this is often used and it's so delicious.) Stir everything well and set it aside for assembly.
Heat the tortillas in a microwave or pan, then proceed to fill the tacos.
Firstly, add a few leaves of coriander (optional, but great for color).
Along the length of the taco, place a strip of the Mexican style chili beans.
Now, add a few pieces of mackerel on top and finish it off with some of the mango salsa.
Finally, add a small dollop of the sour cream mixture with lime zest. Enjoy your meal!