To answer right away, YES! I also have an air fryer. Not for very long, though, because I used to be against it. Mainly because I always had the idea that an air fryer was just for french fries (or chips, depending on where you live) and snacks. However, because of YouTube and TikTok, I started thinking differently. I recently saw some incredibly tasty recipes.
Lately, I've been craving a more special lunch on Saturdays. I recently watched a cooking show where the presenter featured a real New York Tuna Melt. That's exactly what I felt like having today, but with my own twist.
A true tuna melt is a tuna mixture with cheddar on toasted bread. That's all there is to it. The secret lies in the tuna mixture because what you put in there has to complement each other for it to taste really delicious.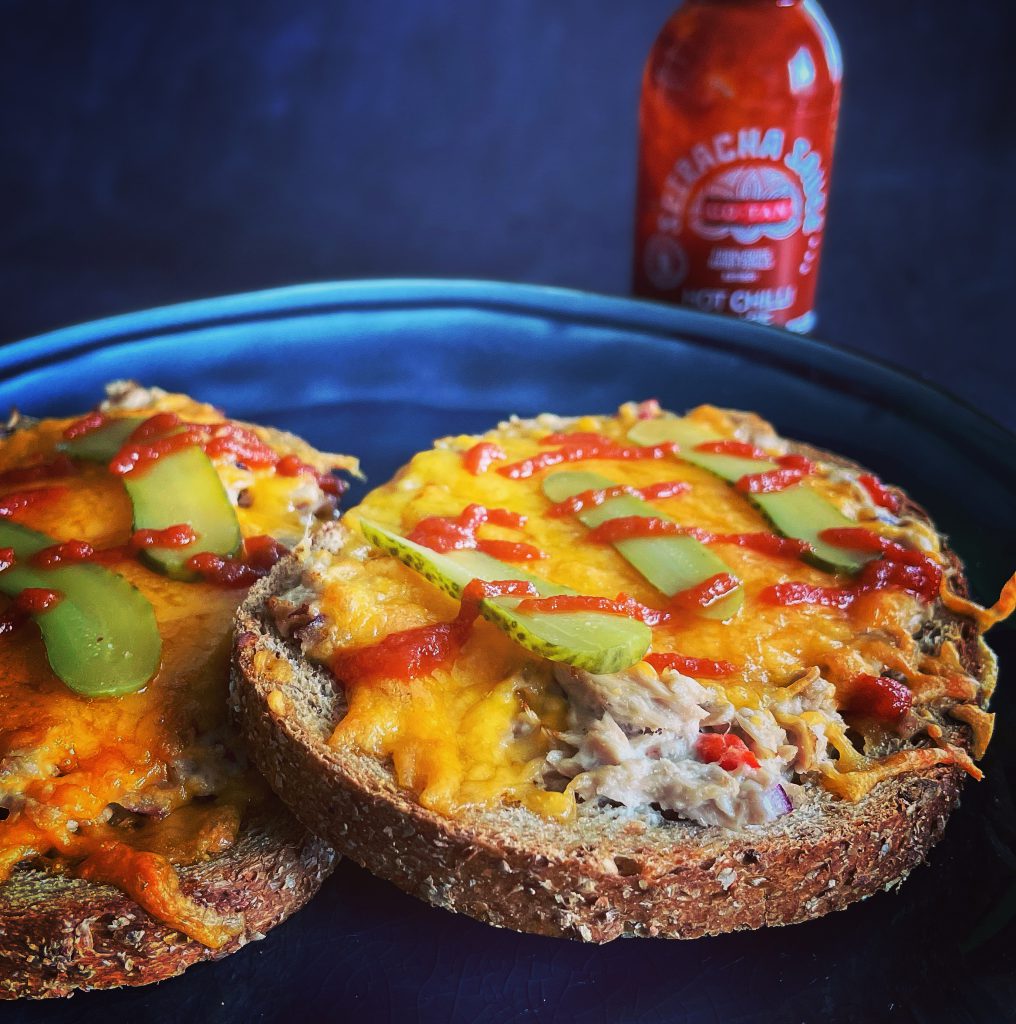 In my case, you'll see that the ingredients are quite simple. Because for lunch, you should ideally be done within 15 minutes (otherwise, it's not really a lunch anymore, right?).
Print
Ingredients
4 thick slices of brown bread (or rye bread of your choice)

2 x 112g cans of water-packed tuna

1 lemon (for its juice)

1 red onion (finely chopped)

1 spring onion (thinly sliced)

1 red chili pepper (finely chopped)

4 tbsp mayonnaise

Grated cheddar cheese

150-200g Sriracha sauce (optional, but it's a spicy variant after all)

A few slices of pickles for topping
Print
Directions
Finely chop the red onion and red chili pepper, and thinly slice the spring onion.
Drain the tuna from the cans and place it in a bowl along with the red onion, red chili pepper, spring onion, mayonnaise, and half of the lemon juice. Mix well.
If the mixture seems dry, gradually add more lemon juice until it reaches a smooth consistency.
Spread the mixture evenly on the slices of bread and sprinkle generously with Sriracha sauce.
Place the prepared tuna melts in the air fryer for 4 minutes at 200°C (392°F).
Remove the tuna melts from the air fryer and top them with pickles. For an extra kick, drizzle some Sriracha sauce over the top. (You can skip this step, but it adds great flavor!)
In the Oven
If you don't have an air fryer, you can also make these in the oven. Preheat your oven to 200°C (392°F) and place the tuna melts on a baking sheet. Bake for 4 to 6 minutes, or until the cheese is melted and starts to brown. Remove from the oven and add the pickles and Sriracha sauce, if desired.