As a foodie, I'm always up for things you'd typically never make or eat. Things like Pastrami. It's something usually found in fancier sandwich shops here in the Netherlands. And yet, it's incredibly delicious and not that hard to make. Like all good things in life, it just takes a lot of time. You can indeed make really tasty pastrami from a good cut of beef, but did you know you can do it with goose or duck breast too? I recently tried this out, and the result was absolutely fantastic! So, I won't keep this from you.
The big secret behind pastrami (for any kind) is actually the brining process.
Firstly, an important note: I've had some intense discussions in the past about using 'nitrite' in brining. If in doubt, it's best to ask your butcher. Online opinions can vary and might not be entirely accurate.
And now, about that incredibly delicious duck breast pastrami. Oh boy, it's so tasty! I've made it several times now, and it just remains incredibly delicious! Now, you can make it too.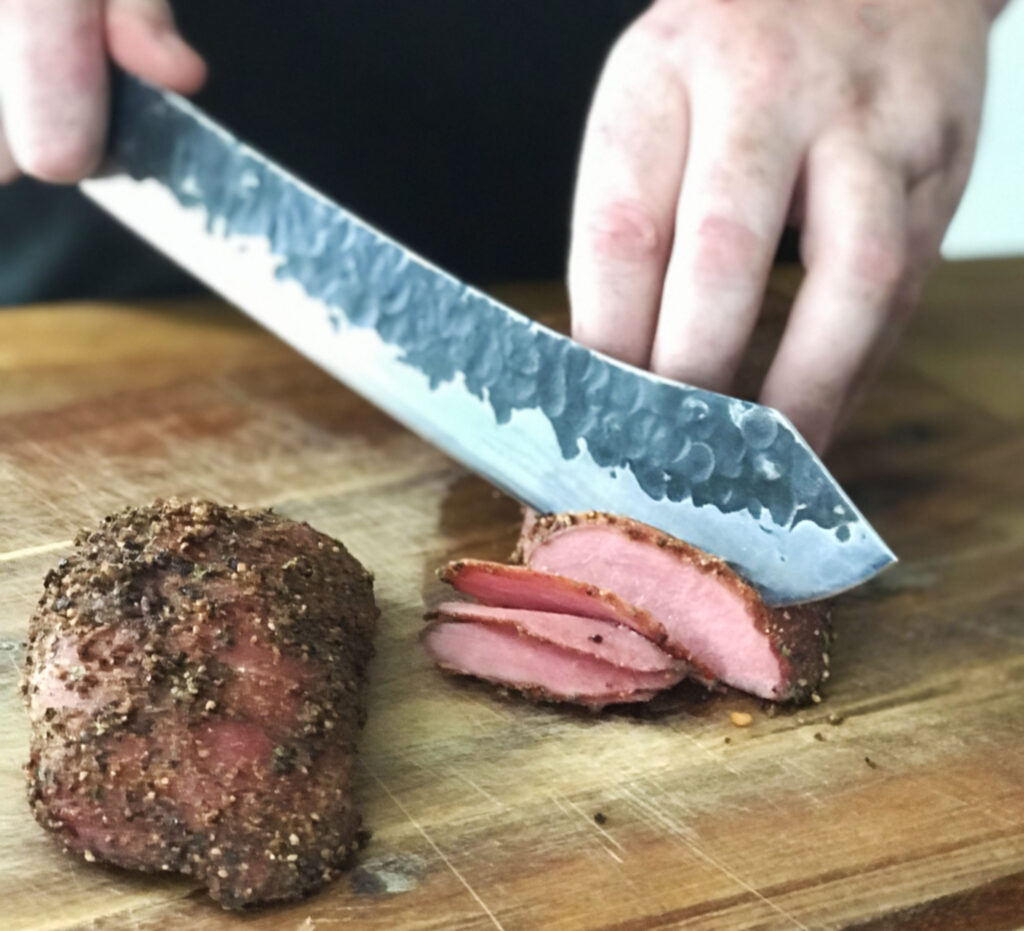 Print
Ingredients
2 duckbreasts

Ingredients for the Brine

1/2 Cup Nitrite salt

1/4 cup ground black pepper

1/4 cup brown sugar

2 tablespoons garlic powder

2 teaspoons onion powder

2 tablespoons dried coriander

1 tablespoon dried thyme

Pastrami Spice Rub

1 tablespoon brown sugar

1/2 teaspoon smoked paprika

1/2 teaspoon mustard powder

2 teaspoons onion powder

2 teaspoons garlic powder

1 tablespoon dried coriander

2 tablespoons ground black pepper
Print
Directions
Combine all the brine ingredients in a bowl and mix well.
Next, place the duck breasts in the brine mixture, ensuring they are coated well. Pack the duck breasts in a ziplock bag or vacuum-sealed bag and refrigerate for 3 days.
After 3 days, remove the duck breasts from the refrigerator and rinse them thoroughly. Place the duck breasts in a bowl of water for 45 minutes to rinse off excess brine.
Meanwhile, set up the BBQ for indirect heat at a temperature of 110°C and prepare it for a smoking session. We're going to smoke these duck breasts on the BBQ! The type of wood you use doesn't matter; I've opted for oak wood.
After 45 minutes, remove the duck breasts from the water and pat them dry. Combine all the spices for the marinade and rub them thoroughly onto the duck breasts.
Now, place the duck breasts on the BBQ (indirect heat) and add wood chips to the charcoal (or set your pellet grill accordingly). Let the duck breasts smoke until they reach an internal temperature of 65°C. The pastrami is now ready to be enjoyed!