This is one of those dishes that you could easily fill your "QUICHE" with, because it's just that delicious. And yes, you can make a quiche on the BBQ, but it's not necessary. So, I'll just give you the temperature and cooking time here. You can decide whether to make it on the BBQ, in the oven, or in the Airfryer!
Origin of the Quiche
The Quiche, as the name suggests, comes from France. Specifically, from the region of Lorraine in northeastern France, near the German border. In French, this area is called Lorraine. Hence, the well-known Quiche Lorraine. Because a Germanic dialect is spoken in this region, the name Quiche resembles the German word "Kuchen."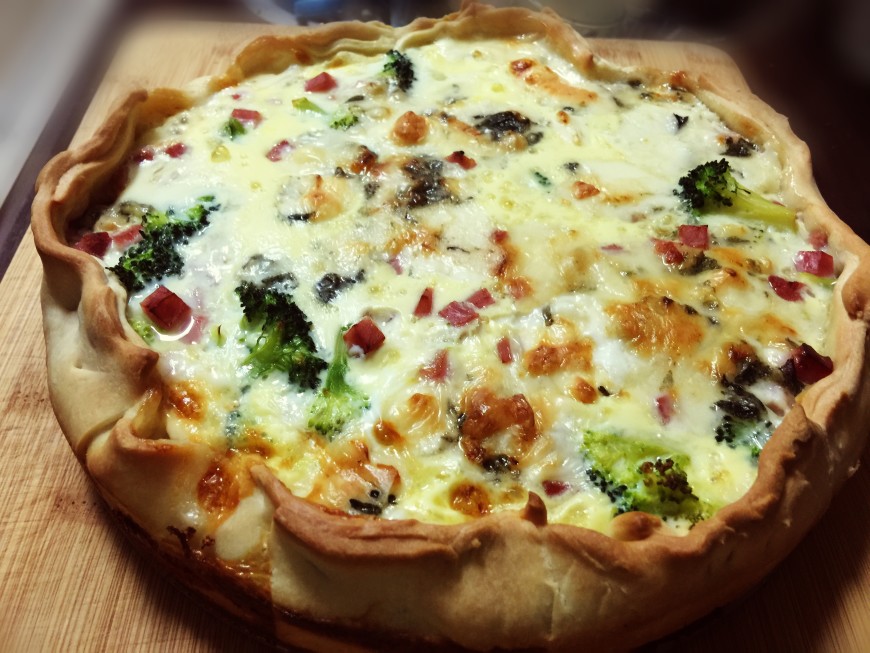 Print
Ingredients
1/2 packet of pastry dough for savory pie

500 grams of broccoli

150 grams of ham

100 grams of gorgonzola cheese

3 eggs

2 dl. milk

pepper for flavour
Print
Directions
Divide the broccoli into florets and cook in plenty of water. For the florets, cook for an average of 5 minutes. Take the pastry sheets out of the refrigerator and let them thaw.
Meanwhile, cut the ham and gorgonzola into small cubes of about half to 1 cm. Line a baking dish with the pastry. Pull the sheets apart and distribute them over the mold, pressing the seams well so that the filling doesn't leak through later. Trim any dough that hangs over the edge of the mold.
Once the broccoli is cooked, drain it and place it in the baking dish, then distribute the ham and gorgonzola over it.
Mix the eggs with the milk and a little pepper. Pour the egg mixture over the broccoli.
Place in a preheated oven at 200 degrees Celsius. Let your quiche cook for about 40 minutes.
After 40 minutes, let the quiche cool for a few minutes. Enjoy your meal!