Here in Scheveningen, the Netherlands, we have the food halls (on the boulevard, near the pier). There, you'll find various food stands, each with a different theme—a place my wife and I visit regularly. And if you happen to be there, be sure to try one of the many drinks or cocktails from the bar. Among all those culinary food stands, there's also a Vietnamese one called 'Saigon.' They sell one of the tastiest baos you can find in the Netherlands. As you can imagine, whenever I'm there, I always get a bao. It got me thinking—I should be able to make this at home. After some research and inquiries, I saw a lot of possibilities. So, lets have a crack at it! For this recipe, using a slow cooker is the most convenient. And since I have a few beers from a local brewery here i am a fan of and i love cooking with beer, so we'll use that in this recipe aswell
Porkbelly
To get straight to the point, unfortunately in the Netherlands, many supermarkets do not sell pork belly. You need to go to a butcher for that. Something I highly recommend though since big coorperation supermarkets are really not honest when it comes to food production, and from a good local butcher you get much better meat. Also you're buying from a butcher means that they actually know what they're selling and can provide good advice. I'm fortunate to have two good butchers, and one of them is Vrijenhoek Butchery in Rijswijk (the Netherlands). A genuinely old-fashioned, excellent butcher with a passion for the trade. I usually buy pork belly with the rind. You can easily remove the rind and use it for other snacks, but more on that later. If removing the rind is tricky, you can also have your butcher do it for you.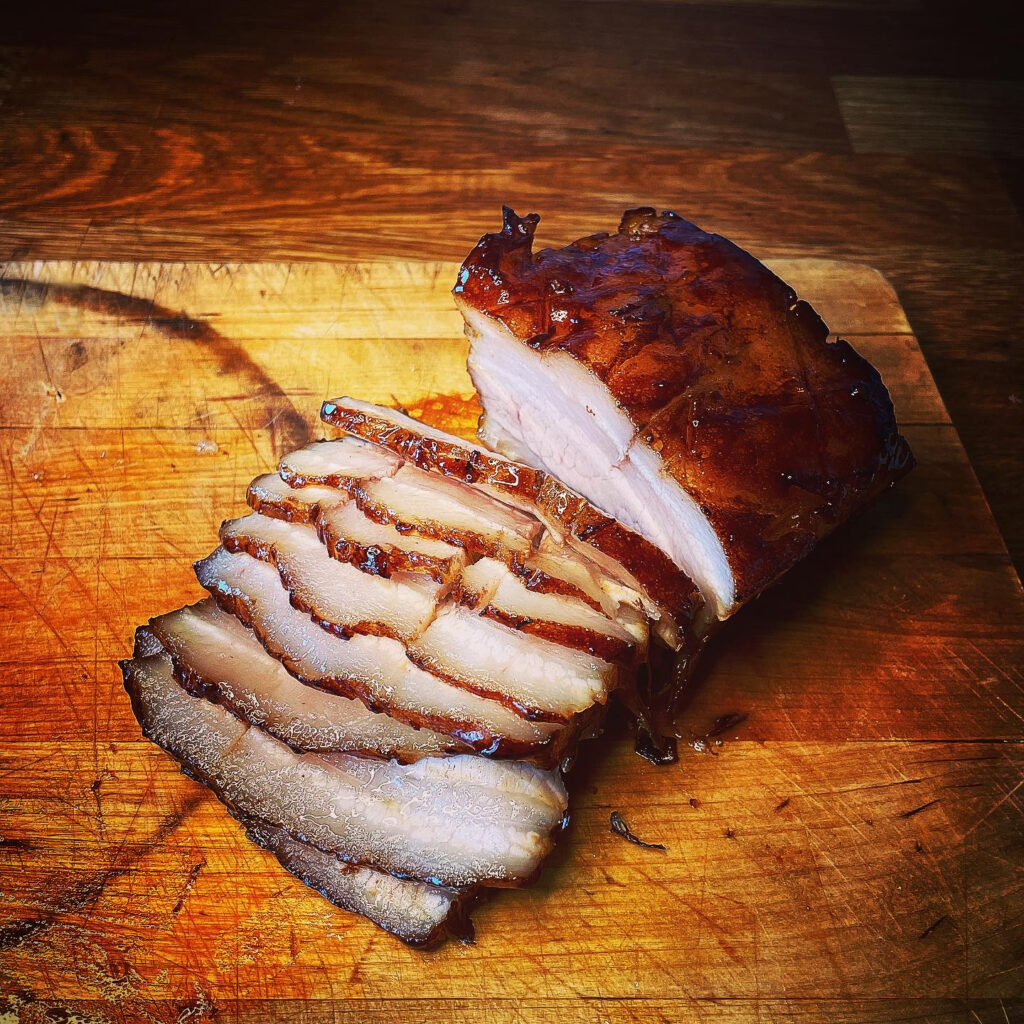 The Gua Bao
The Gua Bao, loosely translated, is a fluffy bun with pork. Popular as a snack in Taiwan but originally from the Fujian province in China. In recent years, it has become increasingly popular in the Netherlands, thanks to locations like food halls and food trucks. Loosely translated, Gua Bao means meat between two steamed buns. You can buy the buns ready-made at Asian grocery stores, but making them yourself is not complicated. For this recipe, I used buns from the store. By the way, a good tip: try shopping at an Asian grocery store. They have fantastic products!
Het bier
As I mentioned, I'm making this recipe with beer from a local dutch Brewery called 'de Molen' (translated it means 'The Mill'), specifically one of their specials called Babi Pangang beer. The beer has distinct Eastern flavors, and the aroma and taste of anise are quite recognizable. It's a perfect beer for this bao, and you can truly taste it in every bite! Whether you're enjoying it with an Indonesian rice table or simply relaxing on the couch after a long day, it's a great choice. You can purchase these beers if you are living in the Netherlands ofcourse (as long as they are still available, as they are a special limited edition from the brewery) through the brewery's webshop.
Print
Ingredients
For the Marinade

500 grams pork belly

1/2 cup soy sauce

1/2 cup brown sugar

1/4 cup canola oil

2 tablespoons lime juice

1 tablespoons mirin rice wine

1 tablespoons ginger paste

5 cloves garlic (finely chopped)

For Cooking Pork Belly in the Slow Cooker

1 tablespoon canola oil

1 large onion (chopped finely)

1 cup of beer

1 cup chicken broth

reserved marinade

For the BBQ sauce

1/2 cup hoisin sauce

1/4 cup soy sauce

1/4 cup sweet wine

2 tablespoons honey

2 tablespoons brown sugar

1 tablespoon apple syrup

1/2 teaspoon chinese five-spice powder

For the Gua Bao's

Braised pork belly

Steamed buns (Bao's)

Sliced or shaved cucumber

Grated Carrot

Cilantro

Sesame seeds

BBQ Sauce

Srirracha